If you need to take a break from gambling, we offer a self-exclusion option which allows you to prevent yourself from accessing your account.
Self-exclusion means that your account will remain closed for a minimum of six months and will not be reactivated under any circumstances during the exclusion period.
Although the minimum period of time that self-exclusion can be set is six months, we also offer an exclusion for one or five years. For exclusions above five years, or to permanently self-exclude, please contact our customer support team. Once an account has been permanently excluded, the account may not be reopened under any circumstances.
Once your chosen time period has elapsed, you can request your account to be re-opened by contacting customer support.
Note: If you are considering self-exclusion, you may wish to contact The National Council of Problem Gambling. NCAP is a national advocate for programs and services to assist people and families affected by problem gambling.
How to self-exclude from SBK
You can self-exclude from SBK by logging into your account and tapping on the Account tab. From there, navigate to 'My limits' and then 'Self-exclusion'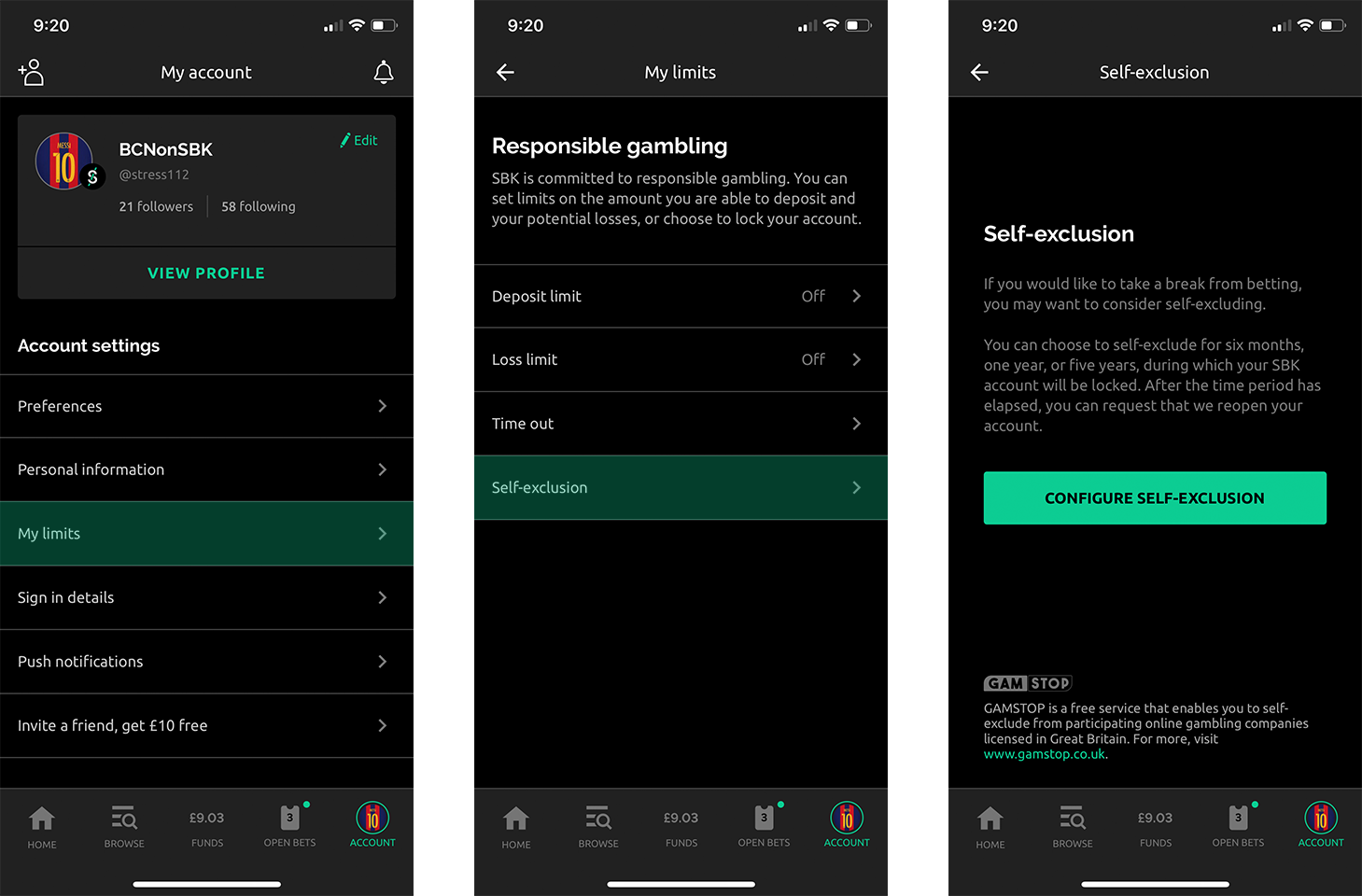 Take a moment to read the terms of thee self-exclusion process. Tap 'Configure self-exclusion', and from here you can select the duration you wish to self-exclude for.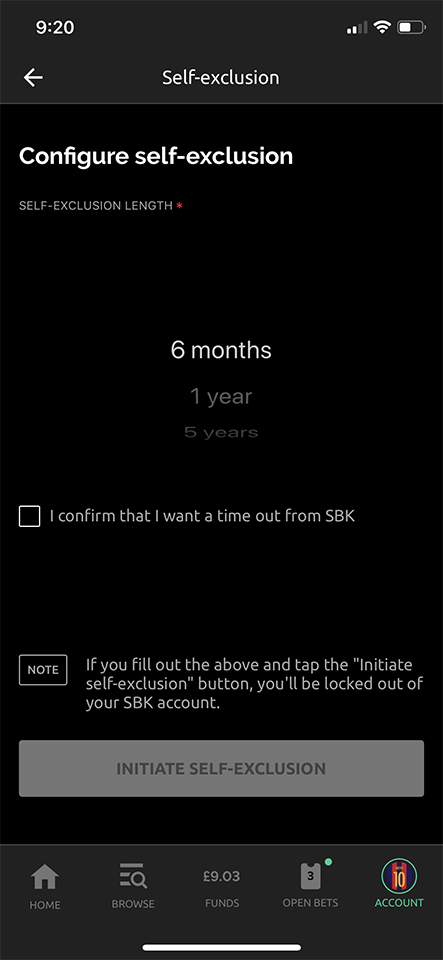 Indiana users only: Internet Statewide Self-Restriction Program
By signing up for the ISRP, a participant agrees not to participate in mobile sports wagering.
A person may select the length of self-restriction of one (1) year or five (5) years.
NOTE: If the person selects one (1) year or five (5) years, the self-restriction will not end unless and until the person provides notification of his or her wish to be removed after the term of self-restriction expires.
To enroll click here.
More info can be found here.
Next steps
Once you have self-excluded we recommend the following next steps:
Seek further advice from a recognized problem gambling agency during this period.
"Unlike" and/or "un-follow" all gambling related social media accounts.
Withdrawing an Active Balance
During the time you are self excluded, you will be prevented from accessing the site. This means you will not be able to login, deposit, or wager any existing balances. Withdrawals can still be processed by contacting our Customer Service team, through the channels available

here

.





Provided we have successfully verified your account, we will then proceed to confirm any available balance and process the withdrawal through the approved payment methods.